Angelique Donnellan (in green) reports on a press conference by former Prime Minister Tony Abbott
This tenacious journo started her career in some of South Australia's most remote locations, as a junior reporter for the ABC.
This year, Angelique was recognised with the award of South Australia's Journalist of the Year for the second year in a row, for her relentless investigations.
Angelique believes in the power of gut instinct, and tells me on The Journo Project podcast how she would encourage all journalists to spend time nurturing and developing this undervalued resource, in their quest to uncover stories that matter.
Her groundbreaking stories exposed abuse and mismanagement at the Oakden nursing home, sparking a government investigation and eventually its closure.
"The Oakden scandal was one of those strange stories that once you started digging into it, it was a bit of a puzzle, the pieces started to fit together and you could build on it," she says.
"It was one of those stories, and this is another bit of advice I have, trust your gut, when something seems off dig a little deeper. If you think the answers aren't there, ask the questions.
"Definitely with investigative journalism I trust my gut a lot. Don't accept things at face value at all. Dig and dig and dig and persevere would be my recommendation.
"Always follow up would be another tip of mine, there might be a story that seems like a one hit, but often they're not. Dig a little deeper and it's part of a bigger issue.
"As it went on month by month, we put the pieces of the puzzle together and found out there was systemic abuse and neglect at this facility."
Angelique has gained a deserved reputation for unearthing stories that have otherwise gone unnoticed, such as her reports on pet food causing serious illnesses in dogs—which led to a Senate inquiry.
"The pet food industry is self-regulated, which a lot of people find hard to believe," she says.
"At the end of the day you don't really know what's in your pet food and the standards to which it's been made.
"There were things like plastics and metals in pet food, materials that in human food would promote a recall to alert the wider public, but in the pet food industry there's no need to issue a recall because there are no laws surrounding that. It's such a big industry, billions of dollars."
The advice she would give journos starting out is "just be prepared to work hard".
Angelique (right) with her sister and photographer legend Tricia Watkinson.
She remembers early in her career narrowly missing out on the ABC cadetship, and despite her disappointment, learning resilience from that experience.
"After that I started off a few days a week as a casual employee with ABC in Adelaide, and that was definitely straight into the deep end," she recalls.
"I got quite a few of the 2-10pm shifts which on one hand you think, terrible hours, but on the other hand, a lot of good stories would happen, if there were any emergencies late at night, you're writing up the news stories for the next morning. So it actually was a really great start. You had to learn fast."
She then worked in a range of regional postings, from Port Pirie, to the outback town of Broken Hill, and Mount Gambier in South Australia's south-east.
She says it's in those remote towns that she honed her journalistic craft, and she still calls on those skills she learnt today.
"The thing about Broken Hill, having come from a big city. You felt quite isolated. It does feel like it's in the middle of nowhere," she says.
"I can remember how different it was to live in a place like that, in a big city you take water for granted, so it was my first real experience of just how hard it is in regional communities.
"I wouldn't be the person I am today without that experience. You had a bulletin you had to put together each and every day and it was up to you to find stories...the bulletin has to go to air.
"You always got enough stories. You always made it happen."
---
Beyond the pod
It's been a big week for The Wandering Journo! On Saturday I was thrilled to get my first magazine cover story—with the Adelaide Advertiser's SA Weekend magazine. Watch out for those Hopper Ants they are NASTY! Really proud to be able to shine a light on such an important issue and such groundbreaking research from Australian scientists.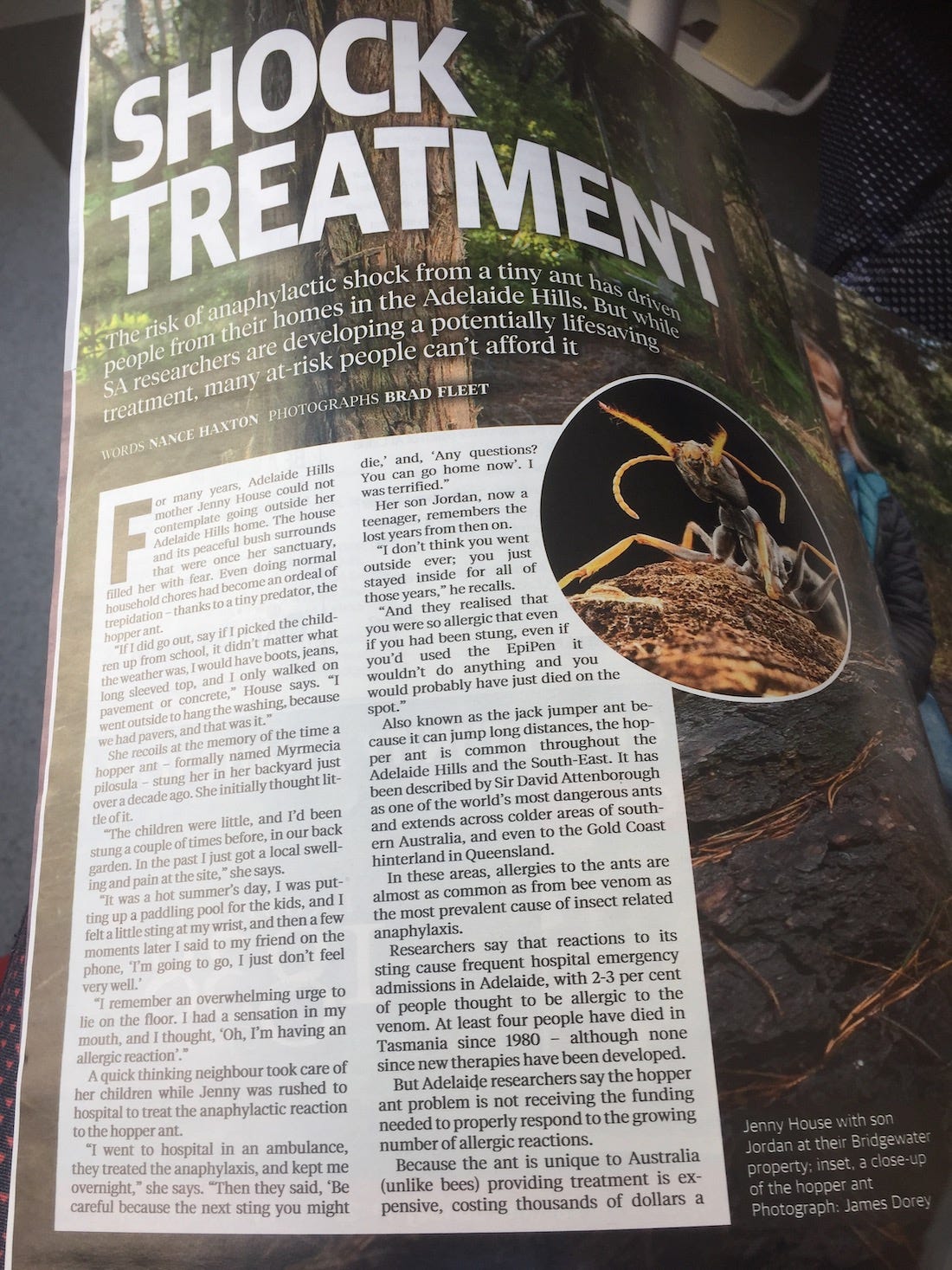 Unfortunately it's behind a paywall—but if you're in SA you hopefully bought a copy on the weekend. For those of you who have a News Corp subscription you can read the story here: Trapped by Deadly Hopper Ants in the Adelaide Hills.
---
What I'm reading
This story is quite revealing about the assumptions we make about our success…and how few of them may be true.
From the socio-economic situation we are born to, or the education we receive; to the colour of our skin and gender we identify with: all of these things affect the opportunities we are offered.
Privilege is the hidden ingredient for success that we don't talk about enough —ABC News
While this feature shows me how we can rediscover our mojo in the most unlikely of places...
"To have that space around me and that separation from society, that's where the magic happens. You can just strip everything away and start again."
How five months in the wilds of New Zealand gave Laura the courage to change her life —ABC News
This last story is just a great validation of our common need across the species to swap songs and get together I think!
The music made by male humpback whales is instantly recognizable. Rich and haunting, it mixes disparate pitches and textures in a way most human musicians wouldn't dare.
In the South Pacific, a Humpback Whale Karaoke Lounge —New York Times
---
Upcoming
Next Monday's episode of Streets of Your Town—The Journo Project, sent straight to your inbox, features the ABC's national Rural and Regional Affairs reporter Dominique Schwartz. She was one of the founding members of the ABC's iconic program Foreign Correspondent. Since then she has been shot at in the Middle East, and reported from the scenes of devastating mine collapses and attempted rescues in New Zealand and Chile. Dominique Schwartz now calls Brisbane home, when she's not travelling from one end of Australia to the other. Her desire to become a journo started as a child, and has not waned since she was accepted as one of the few school leavers ever to be awarded a coveted ABC cadetship. She tells me on this next episode of the Journo Project podcast, how she still has the fire in her belly to tell the stories from places less travelled, and how concerned she is by recent developments threatening press freedom in Australia.
---
If you believe in journalism and wish to support it, subscribe to the paid version of this newsletter. The same content is free for anybody but your support helps sustain this podcast.